Agnostic Front/Murphy's Law/Madball/H2O/25 ta Life/S.F.A.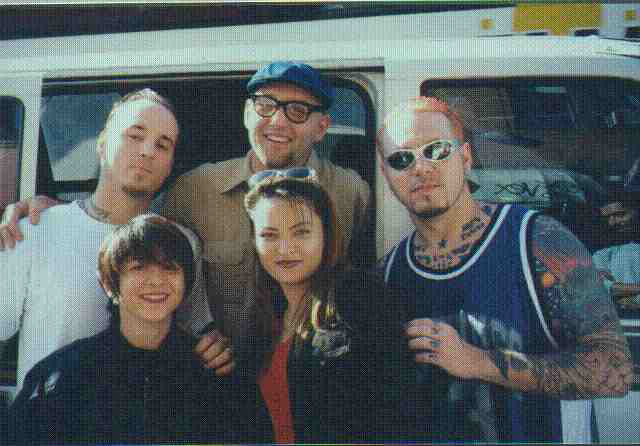 Front Row: Midori, Michi
Back Row: Toby (H2O), Jimmy (Murphy's Law), Roger (Agnostic Front)
CBGB's 10/12/97

To be read in full, any thing less would be Armageddon.
I am a very lucky boy. This has been one of the best years of my life. Found old friends and made new ones. Seen too many good shows. Have increased my bike count, and my scar count. If Ghouliani's Death Squad would leave me alone, life would be incredible.
It is with great pride and sadness that I write this review. No one on this distribution can understand what they are about to read, they can only know as much as their imagine can allow them.
Friday night the one they call "e.Bowla" comes to NYC from Boston with two friends from Japan, Midori and Michi. We make an exodus for the Scofflaws show and I pick up a copy of the Village Voice. The "show" of Biblical proportion is listed, but Sold Out. A CBGB's Sunday Matinee tribute to the recently departed Raybeez of Warzone (he died on September 11th.) I cannot believe that I know the date he died. The line up: Agnostic Front, Murphy's Law, Madball, H2O, 25 ta Life, and S.F.A. I came running across the street crying to e.Bowla and friends about this show.
The four of us head down to CB's on Sunday afternoon. I am sure that we will get in even if it is Sold Out, between me and e.Bowla we know enough people to get in. We are hangin' out front and Roger, the singer for Agnostic Front, comes by. I say hello and introduce him to Midori and Michi. I tell him they came from Japan for this show. He asks if we have tickets. I tell him we don't and he says don't worry about it were going to get everyone in. So everything is cool and everyone is hanging out front, Rusty and Toby from H2O, Jimmy and Raven from Murphy's Law, and Roger and Vinny from Agnostic Front.
We are talking to Jimmy and he is talking in what little Japanese he knows. As usual, he is making everyone laugh. I talked to Toby for a little bit too. We talked about the Sick Of It All/Boogie Down Productions Amnesty International show from '91 when me and e.Bowla met Toby, since Elizabeth knew Paul "Insane" Hutzler who knew Toby. Back then Toby was a roadie for Sick Of It All and Paul's roommate was the other roadie for Sick Of It All. So the four of us are standing there next to Toby - the singer for H2O - Jimmy Gestapo - the singer for Murphy's Law - and Roger - the singer for Agnostic Front - and I ask them if I can take a picture of Midori and Michi with the three of them since they came from Japan to support this show. Me and the e.Bowla later explained to Midori on the subway ride home who those three were. Michi and Midori had no idea what a favor I was doing for them. If it was me and e.Bowla instead of Midori and Michi I would frame that picture. (later addition: upon an emale from andy I realized that I want to frame the picture of Midori and Michi with the three of them, but am waiting until I get it blown up to 8"x10" or larger.)
I also bought the In Memory of Raybeez shirt. As it says on the back "no one gets in for free." Even if you are on the guest list you had to pay the $10. This is a pure example of what hardcore is all about. All the money went to pay for Raybeez's funeral, help out his fiancée, and make a donation to a local support group for street kids in his name. CB's got no money from the door or t-shirt sales. They only made 100 shirts. They sold-out in about ten minutes. Me and e.Bowla walked away with three. Jimmy Gestapo, Toby H2O, Lord Ezec (Crown of Thornz vocalist), and a slew of others didn't even get them.
So we still don't have tickets and S.F.A. and 25 ta Life have already played. Jimmy and Roger are about to walk in and Jimmy looks over at me and asks if we have tickets. I say, "no." He yells over to Roger to get the stamp, CB's has re-entry if you have a stamp. We go around the corner and the four of us get our stamps and H2O is about to go on. My heart stopped at this point and I had the biggest smile ever on my face. [You don't understand: Jimmy (Murphy's Law) and Roger (Agnostic Front) go out of their way to stamp OUR hands to get us into the SOLD OUT show!!! This was the crucial, defining moment of the entire weekend. Jyeah, this is an insert by e.BRC-stylee] e.Bowla, Midori, and Michi went to get some food but I had to see H2O, they are the best band out there now. e.Bowla at this point knew about H2O but it wasn't until he came in and saw H2O did he understand H2O. He now understands H2O and why they are the best band around.
H2O kicked ass. When e.Bowla and the girls walked in Toby was saying how this show was getting international support from Japan, Italy, and some other country. They played old songs and songs off the new CD out this past Tuesday. I didn't have it so I still don't know the new songs. It was sick none the less. I moshed and rolled a good amount, sang some, and loved every minute of it. e.Bowla loved it. I saw him going nuts in the pit. H2O is so damn good it is not even understandable, even when you are there seeing them, so you phoolios are only lost sheep.
I have never seen or even heard Madball before. They are fucking awesome! Since this was my first Madball experience all I can say about them is they were great. I went to Sounds after the show and bought a Madball CD. (I also bought H2O's new album Thicker than Water. Michi bought Murphy's Law Dedicated CD and right now I am making Midori the best Murphy's Law comp ever made. It is even better than e.Bowla's Murphy's Law comp. e.Bowla bought the Wild Style soundtrack. It is the beginning of rap, the movie was made in 1980-2.) Madball played NY HardCore exactly the way I like it, not too hard, good vocals, good guitars and not too fast. During the Madball set the singer from Killing Time got up there and they did "Fool's Day."
Murphy's Law, why do I even review Murphy's Law anymore. This show was awesome. It has been eight years since Murphy's Law has played CB's. It was awesome. They started with Cavity Creeps and followed with Panty Raid. Then they moved on to Sarasota and I got a roll that even Midori and Michi were impressed by the height and duration of the roll I got during this song. I couldn't believe it myself. I carried another skinny guy too. I asked him after the set how much he weighed, 110 lbs. I gave him a good roll but I was the only one supporting him, but at 110 it only takes one. Midori and Michi quickly figured out that the reason I get good rolls is because I only weigh in at 125 lbs. I got a really good roll in during the last song, Some One Is Going to Get Their Head Kicked In Tonight. (e.Bowla just told Midori that I am the only Indian that has been representing HardCore for that last eight years and still get no respect. I almost said something about it tonight when Jimmy Gestapo was saying how everybody was representing; Black, White, Hispanic, Japanese, Irish, English, etc. but no mention of Indian's even though I go to every NYC Murphy's Law show, have thrown a birthday cake into the pit of Coney Island High with Jimmy on August 12th 1995, since Jimmy's birthday is August 10th and mine is August 11th - Jimmy got every one in Coney Island High to wish me a happy B-Day that night - he asked me if we should eat the cake or throw it – without hesitation I said "Let's throw it!" I have even dragged my ass to other states to see them.) There was this one guy with a great mask, we just discussed it and none of us know what it was a mask of. Steve sang back up on a couple of songs and it was awesome, totally eerie sounding. I wish I knew how they did it. I didn't get any beers, other than in the eye, but Jimmy handed e.Bowla a can of beer. Midori said Jimmy bit open a beer. e.Bowla told me Jimmy was handing out beers but I did not see this happen or get one. I hate Midori. She just dogged Chuck Valle. I was trying to explain what a nice guy he was. I showed her the R.I.P. picture of him with his three Little Brothers. Instead of noticing what a good thing he was doing for the ghetto youth she focused in on that he was smokin'. Chuck was great, another hardcore loss. When I was talking to Jimmy outside before the show he was talking shit about everyone in hardcore dying. I kept telling him not to say that, but he was having so much fun talking about how we were all dying (somehow Jimmy can turn any conversation into a funny conversation.) Any way their set was great, as usual. When we were out front I told him I chipped my teeth at the Boston show and he started showing me which of his teeth were fake. Jimmy has lost a lot teeth over the years, more than I could have guessed. e.Bowla just reminded me, they had a Halloween plastic candy collecting pumpkin filled with lollipops that Jimmy just tossed on to the pit tonight. Then Jimmy asked if every one got a lollipop. I got two and gave them to Midori and Michi after the show. Yes they were covered with sweat and beer, but that is why they put that plastic wrapper on them isn't it?
Agnostic Front! Wow, they were awesome too. I just asked e.Bowla if I could stop here but he said no! Sometimes nothing said is better than trying to say something that cannot do justice, like military justice. They played all the great Agnostic Front songs. Roger sang some songs with his brother Freddie, singer for Madball. A shout out was made to Vinnie Stigma's son little Vinne, the only shout out of the night. I loved Agnostic Front. I did not think I was going to like them tonight, but at CB's every band sounds their best. It was only upon hearing Agnostic Front at CB's that I can understand why CB's is world famous. There sound system is awesome. Have any of you seen the JBL ad that shows CB's and saying how good their sound system is? Agnostic Front is now on my short list of immediate buying needs. I never really liked Agnostic Front until tonight. That is how good they were. Roger died his hair red and didn't have on his bandanna and didn't take of his shirt so he did not look so intimidating. I did not mosh during this set. I wanted to see Agnostic Front. Last time I saw Agnostic Front, summer 92, they only played a couple songs because there were bouncers at the show and Roger got mad that the bouncers were stopping the kids from getting up on stage. In response he tried to drop a monitor on one of the bouncer's head. At that point the bouncers cancelled the show. Everyone pretty much bum rushed the stage and pretty much broke it. When the bouncers came out of hiding they were pretty much kicking everyone's ass who was not heading out the door.
Tonight's show was a true hardcore show, CB's and of course no bouncers. The stage was a little higher than I remembered it. Since it was soaking wet with beer from Murphy's Law and water and sweat it was really slippery. I fell a couple times when I was up on stage during Murphy's Law's set. Any way back to Ag Front. They killed it. They might be 35 years old but they can still rock the house. Sid the Kid got a good run on the mic. I have to try and find someone with a TV and VCR to tape Psycho TV on Saturday night, I am pretty sure Sid will spend the half-hour playing the video of tonight's show. Raybeez used to play with Ag Front, he was their original drummer.
e.Bowla is making me write this. He says people don't understand the concept of stage time. We spent about half the Murphy's Law show on stage. e.Bowla got a lot of mic time, I got the standard five minutes, all I want. I take this as granted for a good show, but people else where in the world don't seem to use these as the baseline measures for a good show. I remember last time I went to the doctor and told her that my ribs were hurting from when I jumped off stage at a (Murphy's Law) show and didn't quite make it all the way off stage (you know that misconceiving lower extended stage at Coney Island High.) She asked if I was the singer in the band? I said, "I'm not in a band!, I was just on stage dancing around." After that she stopped asking questions.
e.Bowla and I were trying to think of a better show that either one of us have been to. Given the line-up and it was at CBGB's clearly makes it the best hardcore show ever. This was what hardcore is all about: standing up for what you believe in wholeheartedly, UNITY, helping each other out and not going for the money. Jimmy didn't have to take us around the corner and give us a stamp so we could get in the show. CB's only let them sell 300 tickets, at least 400 people must have gotten in to this show. They didn't have to do this tribute for Raybeez's family. They didn't have to give money to the charity in Raybeez's name, but this is what hardcore is about and "My friends look out for me like family." (courtesy H2O)
After the show we went records shopping (see above) and Michi got a tattoo. It is now 2:30 am and I have to catch a flight to Florida at 7:30 am. I have not even packed yet. If you made it this far thanks and much respect. I just wish you could understand.
It is 3AM now, once again I am ruined. I don't know how I keep living like this. If it was not more fun than the law allowed I would stop. I did escape without injury, a boon indeed.