Kill Your Idols, Kaboom, Fanshen and Burndown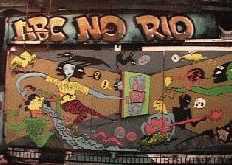 ABC No Rio 11/22/97

So,
I forgot the struggle,
I forgot the streets,
I forgot my roots,
now I am goin' back.
The Bhatt-Zine degenerated from what it was when I started it and only sent it to you two to what it was when I decided to end it. Now I am restarting at the beginning, hoping to find my roots, the struggle, and the streets again.
Where better to start, or re-start, then ABC No Rio. after eight some long years tonight I went to ABC No Rio for the first time. I would wake up with nightmares that I would live in NYC and never go to ABC. that scared me. I'm 26 going on 27.
A bunch of bands played; Kill Your Idols, Kaboom, Fanshen, Burndown, and a few others. For the most part they were all good. I really wanted to see No Redeeming Social Value but they didn't play although the original flyer said they were on the bill.
ABC No Rio is one hell of a place. Having only seen it from the outside, tonight going in I realized what ABC is all about. In the gallery they had an anti-rape exhibit. Wow!!! Some guys are real assholes!!! Downstairs the bands played. Now that I have been there I realize why the city has condemned the building. Since it was taken over in 1980 by the artist/punk rock community no one has done much to keep it up. Even worse when the artist/punk rock community took it over it was already abandoned. It would have been awesome to see Rancid play there, but back then I had no idea how to find out who was playing at ABC (I didn't know if OPEC-SID was still in existence) and wouldn't have known who Rancid was probably, it was september 24, 1993 and at the time I was getting ready to go to chicago for three weeks.
Tid bit of trivia. ABC No Rio got its name because when it was taken over by the artist/punk rock community the building previously had been a lawyers office. given that Rivington street is in the Lower East Side and to this day still a spanish speaking neighborhood, the last occupants had been immigration lawyers and spanish for lawyers is abagodo. well when the place was taken over the sign was still left from the lawyers office, but the only letters still up where A B C N O R I O with various spaces between letters. how is that for some more Bhatt-Zine hardcore history. e.bowla knows what I mean after I explained to him that the Cro-Mags didn't get a new singer at the end of their career, but Harry Flanagan wanted to cover his ass so he mixed the vocals to make the singer indistinguishable. e.bowla did you send me that CD yet? Over Thanksgiving weekend I plan on packaging your and Joh666n's packages. I know that enjoyment will be had by both of you.
dr.bhatt