Sports
<![if !vml]>

<![endif]>


<![if !supportLineBreakNewLine]>
<![endif]>
Tokyo Tripping - February 2003
For this installment of "institutionalized" we find recurring anti-heroes The Good Dr. B-Hatt, Nathan Sweatmoore (a.k.a. dr.zero), e.Bowla (a.k.a. DJ Virus) in Tokyo and reintroduce King Carlos – originally introduced by Wit-to-the-Klown after his Tokyo excursion with the Bitter Bostonian.
Tokyo's Narita Airport greets Drs. B-Hatt and Zero with a combination of European zeal and Japanese culture. Walking out of Narita and seeing the European touring buses pull up on the "other" side of a narrow street has a distinctly London Heathrow-ish feel, especially since it is overcast on this early February evening; however, the beverage vending machines, product packaging and an obviously Japanese population inside is tell-tale Japan.
Wasting no time acclimating B-hatt and Sweatmoore to Tokyo, King Carlos and e.Bowla take their recently arrived rookie visitors to a prime Yakitori joint for dinner. Samantha is in Tokyo for business from NYC for a few days and he joins the "minions of filth" for a fine sampling of skewered chicken parts. For those of you not in the know, yakitori is skewered chicken cooked over what I would refer to as a make-shift grill. While the main characters have a strong constitution and eat everything the chicken offers and post-war yakitori demands, Samantha being the strong woman that he always is passes on the liver, gizzard and other off-center offerings. A fine meal it was and enjoyed by all, including Samantha's employer who paid for a hefty portion of the meal. To ensure that the yakitori was washed down completely, e.Bowla introduces his doctor friends to the Inishmore Tavern for some of Tokyo's finest Guinness. A fine way to end a first night in Tokyo.
On our first full day in Tokyo, Sweatmoore and I head to the Harajuku, Shibuya and Roppongi areas of Tokyo. Basically in Harajuku, Sweatmoore and I find an alley way structure of Tokyo's subversive culture. Punk is alive here!!! I am convinced punk is more alive in Tokyo than in NYC. We eat some great Japanese cuisine here too. I had some great curry Udon noodles, some Chicken Balls, something I would call the Japanese equivalent of a Tofu Knish, and went to a Takoyaki stand for what was described to me as octopus dumplings. We also stumble upon what has become universal, the 100 Yen Store (100 Yen is the rough equivalent of $1). Filled with some of the best Japan has to offer, we know we have to return for souvenirs. On this particular visit I put a 100 Yen coin into the picture machine and got 2 pictures of Sweatmoore and myself with Sweatmoore drinking from his flask, complete with all the post production add-on effects a 100 Yen machine has to offer. On top of the hilarity of the picture, what makes it even funnier is that I later figured out these machines are used almost exclusively by Japanese school girls.
Shibuya was kool too. Here I sampled some of Sweatmoore's order of a food that was cooked in a round thing and had egg as part of the ingredients. It is in the Shibuya section of town that we checked out some of the record stores and guitar shops. Also on Friday night e.Bowla DJed at the Neo Lounge in Shibuya. Later Friday evening e.Bowla and I headed across the street to Club Asia. Club Asia is everything one looks for in a club. I have been to about 100 clubs with live music in my life and Club Asia was one of the best. They had the perfect set-up. In the entrance level they had a stage for live music. When we entered there was a Japanese band playing what I would loosely describe as Rockabilly/Punk. Upstairs they had a great DJ spinning some kick-ass hip-hop and drinks at both Neo and Club Asia were 500 Yen (approximately $4) and the pours were large. To top things off they had a good tattoo artist working the main level for approximately $130/hour, a bargain in any country. This club rivals some of the best clubs I have ever been including, but not limited to Coney Island High (NYC), The Marquee (NYC), The Black Cat (Washington DC), and The Trocadero (Philly). While e.Bowla and I were at Club Asia we left Nathan at Neo Lounge with his new friend Yoko. Several hours later when Nathan realized we all deserted him he went down to Vuenos. I went into Vuenos around to find Nathan and found an equally great club. Shibuya is definitely a kool part of town.
Finally our second night and first full day in Tokyo ended with a trip to Roppongi, the Western area of Tokyo. Roppongi is an area that is dominated by Westerners. We went back to Roppongi again on Thursday night for Roppongi Happy Hour and visited several establishments. The most memorably named Gaspanic, which I like to refer to as AssPanic. AssPanic on Thursday nights sponsors 400 Yen (approximately $3.50) drinks all night and is filled with white people and Japanese kids who want to hang out with Americans and other Westerners. It was on the subway to Roppongi Thursday night Happy Hour that we saw the only crack ho of the trip. This girl could not stand up straight for her life. She must have had some coke since she was sniffling and kept wiping her nose in that coke-head fashion. We saw her about five hours later on the streets with some guy and she seemed fine. Tokyo is one large ho-happy hospice supporting a variety pack of hos. There are: Snack Hos, who work the hostess bars; Shanghai Hos, who work the rub and tugs and the Bitter Bostonian; Crack Hos; which I guess leads into Roppongi Hos, who work the westerners in Tokyo; and finally the Yakuza Hos, who are working the Yakuza Mafioso.
Saturday night I went out with e.Bowla, one of e.Bowla's friends, Nathan, and King Carlos. This was the only night of the trip I really drank, since I was on medication and wasn't supposed to drink at all. We started out in Shinjuku and had a few adult beverages as we went from bar to bar trying to find a kool place that wasn't too crowded. Mid-way through the night the King headed home and the rest of us went back to Roppongi for many more beers. It was in Roppongi that e.Bowla's friend pointed out that I had reached a point of inebriation that I looked like the dog in the Sapparo beer commercials on the subway. Indeed I did. Needless to say much of our visit to Roppongi that night is blurry, but I remember drinking a plethora of Asahi Super Dry.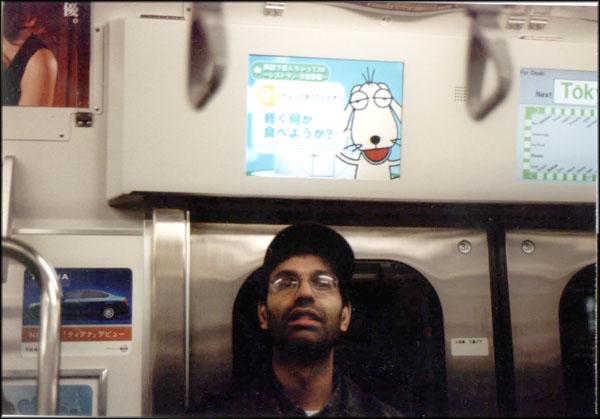 Another night Drs. Zero and Bhatt visited the Ueno section of Tokyo. It was a pretty kool area. All kinds of shops. Nathan purchased some stuff from the sex shop for Punky, but I don't think the gifts were given for reasons I never asked about. I randomly stumbled on to this establishment which is like an open air diner where Japanese men eat skewered foods and drink sake. A great find it was. I ended up there for three hours. After about an hour Nathan spotted me and joined me and the three Japanese guys I had met. They were three characters. One was a forty year old normal guy, one was an older Japanese guy that was pretty funny, and the last was an older Japanese guy of questionable sexuality. By the time it was and they were closing down the place these guys were all ruined. The kool older Japanese guy could hardly stand. Here I ate pork stomach and intestine soup, grilled Shitake mushrooms, and a whole grilled saba (mackerel), and had a glass of sake. If you are ever in Tokyo you have to visit the back alleys of Ueno. This may have been the best part of the trip.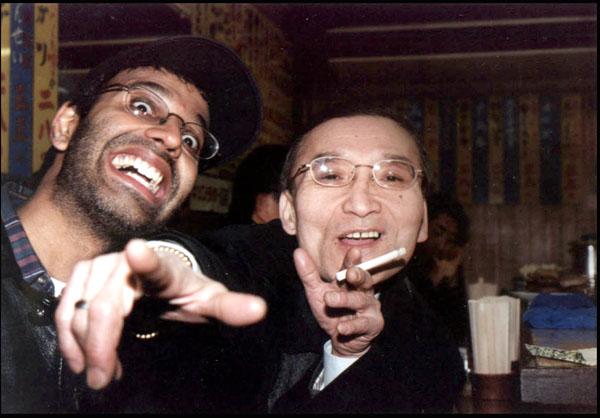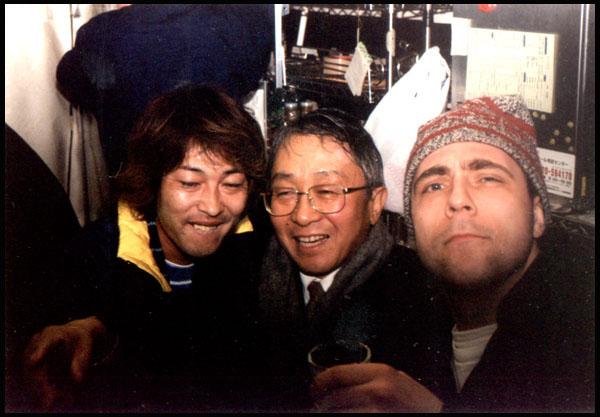 While in Japan I ate many tasty foods, some of which I had no idea what I was eating. In no particular order the things I knew I ate include fish head, octopus, eel, mackerel, pig stomach and instestines, pork and bean buns, egg and vegetable mosh pancake, shitake mushrooms, beef bowl, miso soup, soba noodles, udon noodles, ramen noodles, seaweed, pig feet and pig ears, chicken balls, skewered chicken parts, assorted skewered meats, deep fried tofu, deep fried pork, and deep fried chicken.
| | |
| --- | --- |
| Tokyo effected Nathan and my bodies in opposite ways. I hardly ever had to scat. Nathan, however, had to scat constantly. e.Bowla gave him nine Strong Wakamoto pills to take to help. I believe Nathan mistakenly thought they were suppositories. Twenty minutes after taking the Strong Wakamoto he said he scat them right out. | Other places and things we did on our trip were basic tourist stuff. We visited the Imperial Palace gardens. Ate unagi (eel) at the fish market. Went to Kamakura, the military capital of ancient Japan, to visit the temples including The Big Buddha (pictured on the left). Went to Akihabara to see the cutting edge electronics. And what trip to Tokyo wouldn't be complete with out a trip to the Sapporo beer museum. With only a few hours and few yen left on my last day, I spent both of them at the beer museum's tasting room. |
Tokyo was a good thing. I shouldn't have waited four months to write this, the delay clearly affects the quality. Sorry.